Improve Efficiency
Increase Revenue
Unleash the Power of SPARC Media Hub
A unique and beautiful workflow system for radio stations. Stay on top of everything promotions and creative. Make your competition wonder how.
A Workflow that is made for Radio People, by Radio People.
A stunning design that is also mobile friendly.

Your data is secure and backed up regularly.

Collaborate across your entire company with ease.
View All Features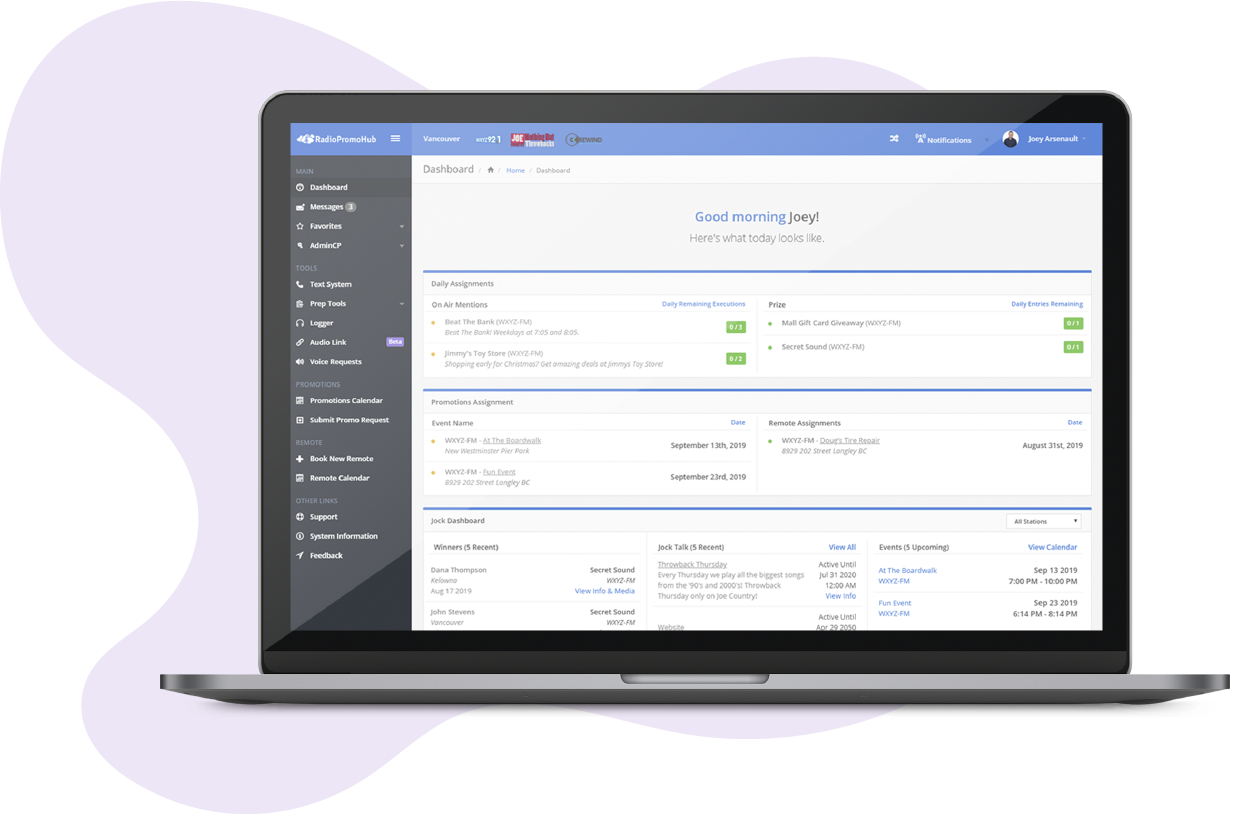 Say hello to your new
Workflow.
A unique and beautiful workflow system for radio stations. Stay on top of everything promotions and creative. Make your competition wonder how.
Built For Radio
An amazing tool for radio stations to stay organized,
increase revenue and efficiency!
Engage with your listeners using SPARC Media Hub's texting software. Text winners when prizes are ready, manage contest entries with keywords and save your favourite texts for your shows!
Know who is calling, banned from winning prizes or a great caller before answering your phone! Control your Telos Phones, Create Calling Queues and more with SPARC Media Hub Phone Screener.
Create campaigns for your clients and see everything for that campaign in one place. Track your campaign progress to ensure it starts on time, and get notified when its about to expire.
Create a prize qualifier list and start collecting information about your winners. Have SPARC Media Hub select a random winner or pick a winner from your list. Easily convert the qualifier to a winner.
Build your show all within SPARC Media Hub's Prep Sheet Builder. Link posts from your favourite websites, on air mentions, prizes and more, so nothing gets missed.
Track all your paid liners and their execution times. Assign live mentions to announcers and view or print a report indicating all execution times. Never miss a mention ever again.
SPARC Media Hub will automatically email winners prize pick up information using templates you've created! It will also email winners a certain number of days before a prize expires so they don't miss a prize!
View and manage all your resources for station events or live remotes. Assign tasks to specific announcers or street team, directions, assign promo items to take and give detailed instructions on how to execute the perfect event.
Manage one or multiple markets with SPARC Media Hub's intuitive creative dashboard. Quickly assign writers and producers to tasks and see everything in real-time. You can also send voice requests and voice request reminders to staff in other markets with ease.
Change the way you do promotions. Forever.
With SPARC Media Hub, you get the tools and help needed to execute the perfect promotional campaign everytime.
Contact Us Today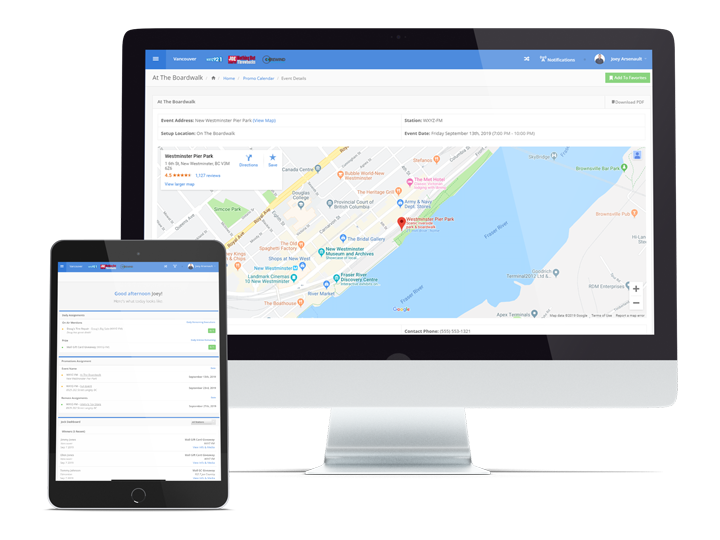 "When I went searching for a system, I wanted something that specifically helped with the flow of information from rep to creative to production. SPARC is a system that does just that, but also offers soo much more. We track our prizes, winners, remotes, and promos all within this system and it has helped improve the Communication through all of our Departments. Their customer service is second to none."
Eric Whynot
Acadia Broadcasting
"It's just so easy to use and share ideas with other members of the team. It keeps us organized with both our long and short term planning. A true 24/7 prep tool. I wouldn't want to do a show without it."
Drew Savage
Bell Media Vancouver
"Our stations have been with SPARC for over 3 years. It's an amazing product that seamlessly ties our various departments together to ensure everyone's on the same page. The user-friendly interface is popular amongst all teams and has dramatically changed the way we manage promotions and creative. SPARC is a real timesaver and makes everyone's jobs easier!"
Chris Myers
Harvard Media
"SPARC is a game-changer. From its simple giveaway setups, to prize and winner tracking, they've really thought of every little thing you might need to properly manage all aspects of media. It's completely changed the way I do my work and it's an integral part of my toolkit. If it's not included in SPARC, you don't need it."
Jessica Dionne
Bell Media Quebec
Free Trial
Contact us today for a free trial or demo. We will show you how SPARC Media Hub can improve efficiencies, revenue and overall customer satisfaction.
Email us for more info at
Already in a Contract?
Want SPARC Media Hub but already in a contract? We will give you free access until your contract is up!
Email us for more info at